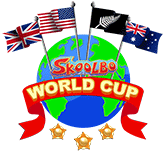 The Skoolbo World Cup
This year, thousands of children from across New Zealand, The United States, The United Kingdom, and Australia will compete to see who can answer the most literacy, numeracy and language questions on Skoolbo!
Please join us and help Team Australia take on the other countries in their quest to become Skoolbo World Champions!
Every question your children answer correctly puts your team one step closer to victory!